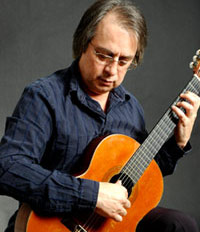 Gabriel Estarellas
Proudly announcing the world premiere of Yalil Guerra's composition "Guitarra Latinoamericana" at the Kreuzlingen Music School in Kreuzlingen, Switzerland by guitarist Gabriel Estarellas.

The concert will also premiere works by composers: Beno Belduma, Joaquín Riano, Fernando Arduz Ruiz, Jorge Herrera Santander, Carlos Atilano, Jorge Vega Ugaz, Fabiano Borges and Eduardo Martin.

All the music is included in the album Gabriel Estarellas: "Guitarra Latinoamericana", published by RYCY Productions Inc. available in iTunes, Amazon and CDBaby.

The concert web site, press here.